If you want to wake up with the sandy shores right outside your window, the gorgeous Palm Beach and West Palm Beach are incredible Florida locales to check out. These communities offer residents stunning vistas of the magnificent coastline, beautiful weather, excellent shopping spots, and plenty of opportunities for outdoor and water-centered adventures. Plus, there's a dining scene that you just don't want to miss!
Palm Beach and West Palm Beach are the ultimate hotspots for food-minded individuals to come and visit. These communities offer all kinds of different and exciting menu items for you to try, including traditional Southern food, Thai dishes, and more.
If you're looking into Palm Beach or West Palm Beach homes for sale and wondering where to go to calm down your hunger, wonder no more! Check out the Coastal Collective's list of top dining spots in the area. So, don't just sit there and wait for your stomach to growl! Take a look at our top places to make a dinner reservation.
Palm Beach restaurants
Imoto at Buccan
350 South County Road, Palm Beach, Florida 33480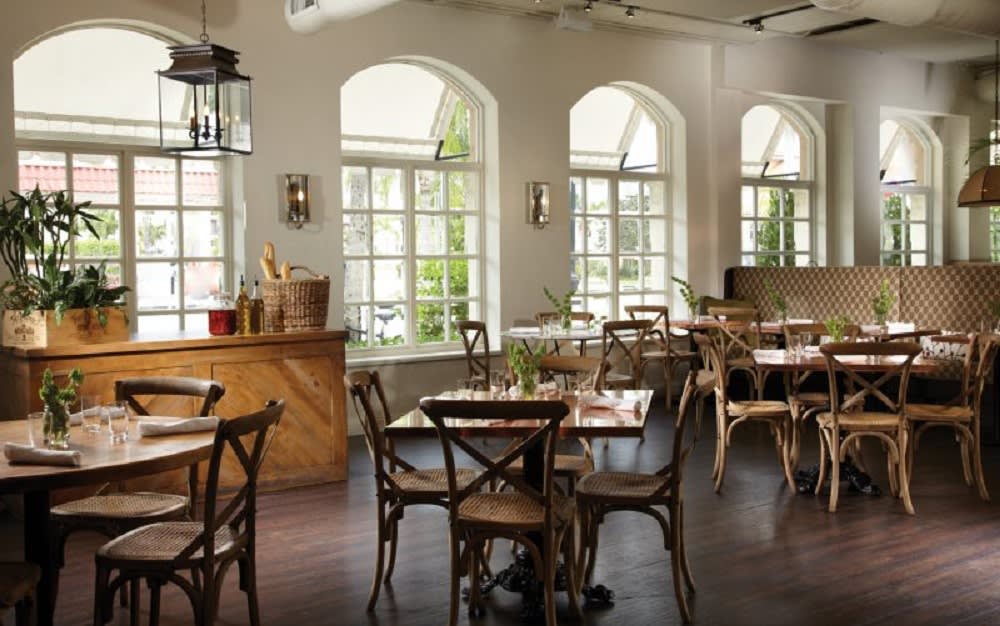 Imoto at Buccan
is an excellent Asian-style restaurant with a menu of creative seafood options and shareable plates. With a fantastic sashimi menu, complete with delectable choices like fresh water eel, yellowtail, and yellowfin tuna, plus a variety of sushi rolls from the classic California to super salmon roll, this is the go-to spot for seafood. Whether you're craving seared salmon nagiri or a wood-fired tuna foie slider, you don't want to miss this restaurant. They also offer catering for on- or off-site events, from bridal showers to receptions and more.
LoLa 41
290 Sunset Ave, Palm Beach, FL 33480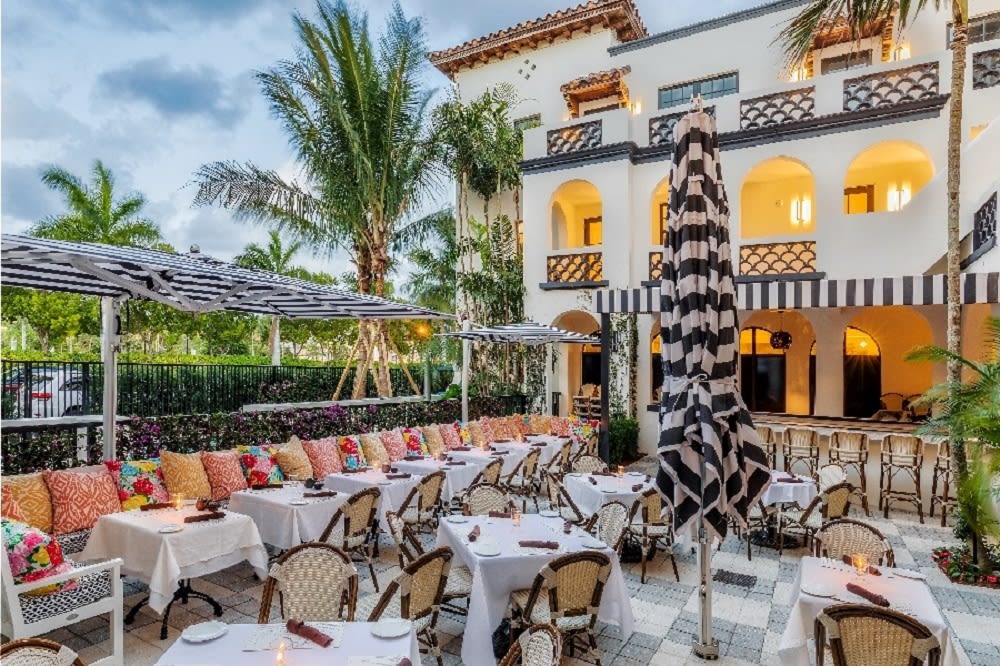 LoLa 41
is a must-visit dining destination if you're in the area looking at Palm Beach houses for sale. The restaurant is named after the 41st parallel, with "LoLa" standing for "Longitude Latitude," and the interior decor is inspired by the countries that the 41st parallel passes through. They offer visitors an incredible cocktail and sushi bar and a menu full of Asian and American choices, from skirt steak and eggs to king crab rangoon. Menu favorites include the LoLa burger, Asian-inspired tuna burger, brioche French toast, lobster fried rice, and shrimp tempura. Happy Hour is held daily from 4 to 6 p.m., and the restaurant also offers "Sushi Sunday," the perfect timing for a BOGO sushi event.
Cucina
257 Royal Poinciana Way, Palm Beach, FL 33480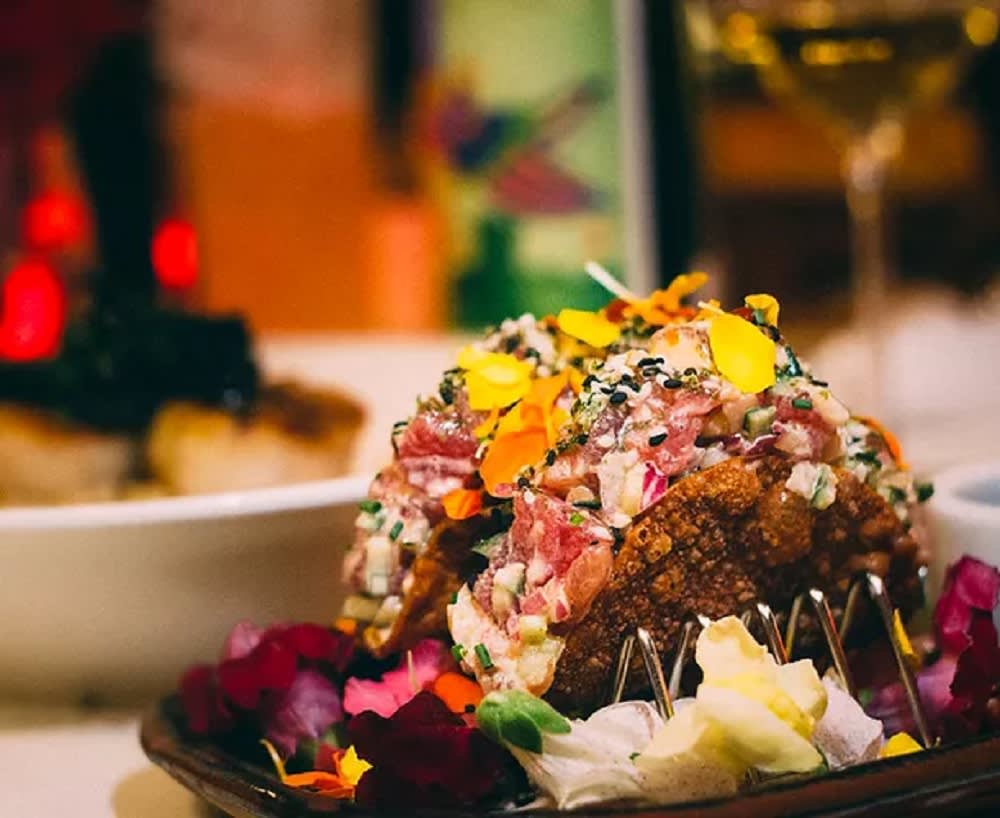 Photo courtesy of Cucina Palm Beach
If it's amazing Italian cuisines you seek, look no further than
Cucina Palm Beach
. This is the perfect place for an excellent menu of Chef Kent Thurston's creations, like chopped wedge salad with blue cheese, white pie thin-crust pizza with black truffle and parmigiano, a daily fresh catch of fish, slow-braised half-chicken with peppers, prime brisket meatballs, and more. Plus, they offer an assortment of vegan and gluten-free options, as well as great cocktails.
Le Bilboquet
245a Worth Ave, Palm Beach, FL 33480
For a charming dining experience, check out
Le Bilboquet
, with its gorgeous courtyard entrance inviting guests through the doors. With a French-inspired style inside, diners enjoy the elegant ambiance and exquisite food offerings of French bistro cuisine. Try the organic mesclun salad, French breakfast radish with mint and peas, calamari with crispy squid rice and peppers, yellowfin tuna le tartare, Caesar salad, or stewed local seafood with saffron. You'll go in hungry but leave happy!
PB Catch
251 Sunrise Ave, Palm Beach, FL 33480
Another exquisite seafood spot is
PB Catch
, where locals enjoy all the finest and freshest local seafood offerings, from shrimp and oysters to fish and clams. PB Catch offers a freestanding raw seafood bar plus an entire menu of top-notch plates, like the Chilean seabass and grilled Atlantic salmon. The restaurant also features an assortment of land-based dishes, like grass-fed ribeye, roasted chicken, and vegetarian plates. And, don't miss Happy Hour for the 2-for-1 oysters and drinks!
West Palm Beach restaurants
Avocado Grill
125 Datura St, West Palm Beach, FL 33401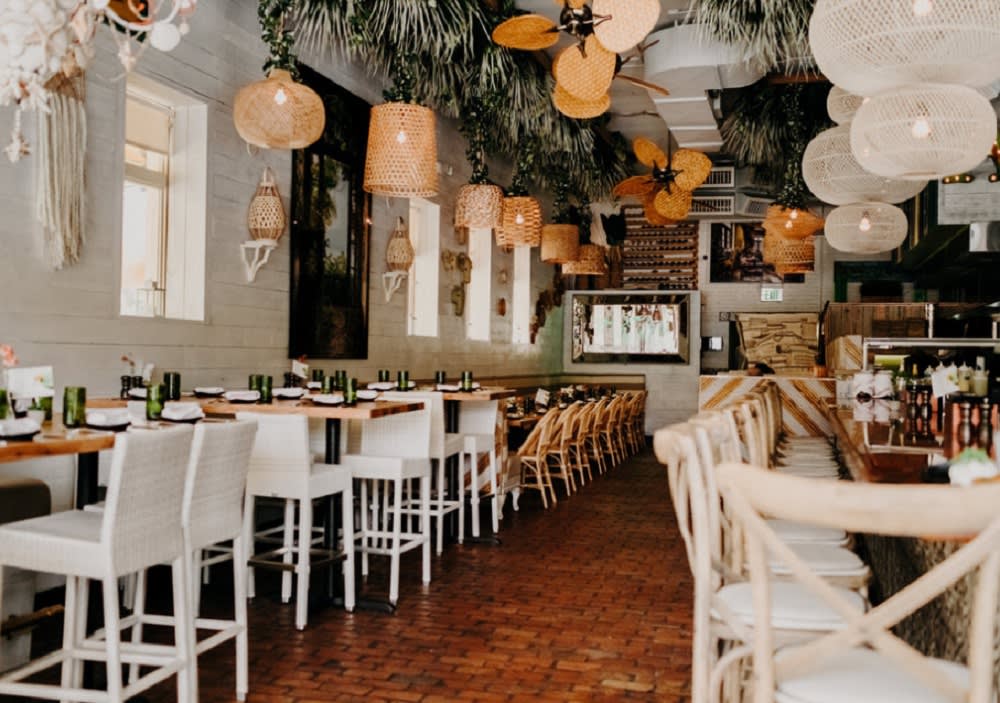 Photo courtesy of Avocado Grill
With a chic, elegant dining ambiance as the backdrop,
Avocado Grill
offers exceptional service and a fantastic menu. With a "farm-to-table" mission, Avocado Grill serves only locally-sourced foods by Chef Julien Gremaud. Menu options include small plates of grilled avocado with corn salsa, broiled oyster scampi, and stuffed crispy zucchini blossoms. Entree items are full of tasty options like the prime dry-aged burger, grilled fish tacos, and Moroccan chicken tagine.
Pistache French Bistro
101 N Clematis St, West Palm Beach, FL 33401
Pistache French Bistro
is a must-visit for special occasions. Despite its quaint exterior, you will suddenly be transported to the Parisian countryside when you take a step inside. Head chef, Mike Burgio, has been serving classic French dishes since 2008.
Overwhelmed by the extravagant menu? Let us guide you through the process! Start your dinner with a glass of wine from the expansive wine list, spanning from crisp chardonnays to robust pinot noirs. Then, go ahead and look at the appetizers. For all you classic foodies out there, we recommend the "Burgundy Escargot." This rich dish is an absolute must if you want an authentic French experience. Then, you can put together your own charcuterie board at Pistache— which uses only the finest ingredients available.
Trust us when we say that if you are planning a special occasion, such as a proposal or birthday celebration, Pistache is the place for a dinner reservation. P.S. Pistache is the perfect place to plan a small intimate gathering, as they offer private dining options!
Roco's Tacos
224 Clematis St, West Palm Beach, FL 33401
Don't miss
Rocco's Tacos and Tequila Bar
if you're craving Mexican dishes. Rocco's offers a menu of authentic Mexican flavors, such as Austin queso cheese dip with chips and veggies, ensalada mixta with cotija cheese, taco burgers, house tacos, and daily specials. Plus, with over 200 different types of tequila, there's truly something here for everyone.
Grato
1901 S Dixie Hwy, West Palm Beach, FL 33401
Take a break from looking at luxury condos in West Palm Beach and head to
Grato
, an outstanding restaurant that serves exquisite Tuscan dishes. From Italian salad to marinara meatballs and margherita pizza, this is a go-to spot if you're hungry. Grato also offers a variety of craft cocktails, mocktails, and bottled beers as well as desserts like bread pudding with cinnamon crumbles, flourless chocolate cake with Nutella whipped cream, and vanilla bean gelato.
City Cellar
700 S Rosemary Ave, West Palm Beach, FL 33401
Finally, no list of the best restaurants in West Palm Beach would be complete without
City Cellar
. This wine bar and grill is a local favorite for the fantastic menu of Executive Chef Farrin Kolpan's American dishes, like dry-aged steaks, braised lamb shank, blue crab crusted sea bass, grilled filet mignon, hearth-baked pizzas, and more. Plus, with bottomless brunch on the weekends, Wine Wednesdays, an award-winning Wine Shop, and an elegant private dining area, you'll never be disappointed if you choose City Cellar for your next meal.
Come join us
Are you just as obsessed with these restaurants as we are? If so, why not take the extra step and live so close that you can visit one of them every weekend for a date night or drinks with your friends? Top bars? We have that. Top beaches? We have that, too — and so much more!
If this sounds like a dream to you, then you have to stop wishing, and come take a look at all of the best beachfront homes for sale in West Palm Beach and Palm Beach. At
Coastal Collective
, we want nothing more than to put you into the home of your dreams. With over 30 years of experience, we have what it takes to help you find your new spot in this paradise of beachfront living. Get started today!
*Header photo courtesy of Unsplash