Many people are shopping for homes for sale near West Palm Beach, and once you spend some time in the area, it's easy to understand why. The weather is pleasant throughout the year, and there are plenty of exciting activities and things to do nearby. For many locals, one of the best ways to spend a weekend is traveling out to one of the nearby destinations by boat. If you're looking to make plans for your own getaway, here are a few locations to consider.
1. Peanut Island

Located near the center of Lake Worth inlet, Peanut Island is one of the best destinations for a day trip or weekend getaway near Palm Beach. For over eight decades, people have traveled to Peanut Island to enjoy a peaceful picnic or an overnight camping trip. Over six acres of land are available for guests who want to set up camp, and although there are no beaches on the island, you'll find plenty of opportunities for fishing, boating, snorkeling, and swimming. If you want to set up a picnic, you can take advantage of the many picnic tables and grills in the area. You can also simply kick back and enjoy the warm weather and the Florida sun. If you don't own your own boat, you can ride the boat taxi out to Peanut Island, or you can secure a private boat rental. Designated areas are open for day use between sunrise and sunset, and the swimming areas are not guarded.
2. Lake Boca Raton
Many people consider Lake Boca Raton to be a boater's paradise. At Lake Boca Raton, you'll find fishing charters, private boat rentals, and staffed boat charters. Once you arrive, you'll see plenty of boaters, kayakers, jet skiers, and paddle boarders enjoying time out on the water. There are over 100 palm trees on the main island, and there are two additional islands that you can travel to via boat or kayak. Each year, the Boca Bash draws thousands of visitors to the area, as many people look forward to enjoying the expanded boating opportunities and the refreshing drinks.
Legend has it that Beer Can Island originally received its name because its visitors regularly threw their empty beer cans in the water after drinking and swimming. You won't see many empty beer cans these days, but you'll see plenty of boaters and jet skis out on the water. The water is usually not more than six inches deep, so this is a great place to hang out and swim, especially during low tide. Beer Can Island is also dog-friendly, so bring your four-legged friends along for the ride and let them enjoy splashing around in the ocean with you. Guests will regularly get pick-up volleyball games going or set up for a round of horseshoes. Some people will simply dock their boat near the island and relax. If you happen to be in the area on the Fourth of July, you'll enjoy a breathtaking fireworks display after the sun goes down, but keep in mind that traffic will be busy as you're leaving.
4. Blue Heron Bridge
Ever experienced a three-mile snorkeling trail? At Blue Heron Bridge, you will. This site is recognized as one of the top diving locations in the country, and you'll see various seahorses, eels, starfish, and octopuses as you travel deep below the sea's surface. You can snorkel in the waters as well, and don't be surprised if you see a shipwreck or even a statue while you're underwater.
5. Jupiter's Sandbar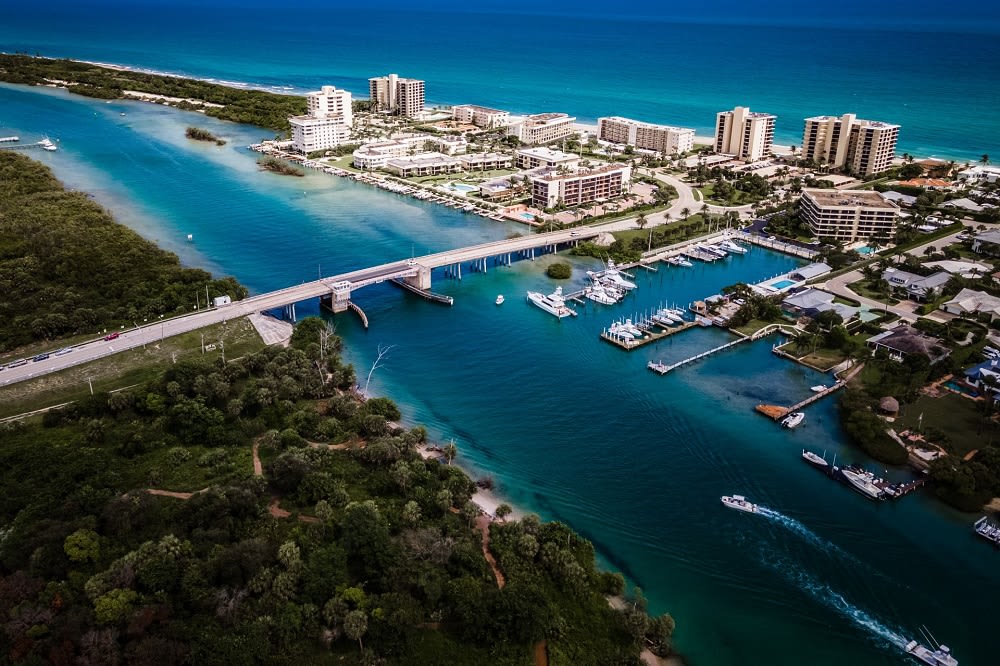 Also referred to as Loxahatchee Sandbar, this island is a top destination for boaters in the area. The best time to enjoy Jupiter's Sandbar is over the weekend while the tide is low. You can easily see the Jupiter Inlet Lighthouse in front of the shore, as well as plenty of locals and tourists out enjoying a day on the water. Typically, families prefer to set up on the sandbar's west side, while the east end is usually a little louder and more favorable for those who are looking for a party. Whatever side you choose to enjoy, you're guaranteed to have a great day on the water. The area is a little more rural, so don't expect to find restrooms or concession stands near the sandbar. You'll have to travel further inland to find these amenities. Usually, boats begin arriving about three hours before low tide, and high tide is the best time to get in the water to snorkel.
6. The Bahamas
While it's not close in proximity to Palm Beach, you can still travel to the Bahamas for a weekend getaway if you choose. You can board a cruise ship through the Port of Palm Beach and enjoy a relaxing sea getaway. One of the most popular liners to board at the Port of Palm Beach is Margaritaville at the Seas. You can board their Paradise ship and take a three-day, two-night trip to Freeport. You'll enjoy delicious dining options and luxurious cruise ship amenities as you travel. If you're looking for a longer trip, they also offer four and six-night excursions in addition to all-inclusive options.
As you can see, there's a lot to like about living in the Palm Beach area, starting with the many options for fun and relaxing weekend getaways. Once you decide you're ready to start shopping for West Palm condos for sale, consider working with an experienced local real estate agent who knows the market and the area. When that time comes, give the
Coastal Collective
team a call. Each of their agents boasts several years of local real estate experience, and they take pride in offering top-notch service to each of their clients. They will help you navigate through the process of shopping for homes for sale near West Palm Beach.